Got a supported NVR from Hikvision? Wondering why it won't work in Google Chrome? The problem is NPAPI, and we have a solution.
Suppose you own a Hikvision DS-7604NI-E1/4P, DS-7608NI-E2/8P, or DS-7616NI-E2/8P (Hikvision NVR or other Hikvision cameras and Hikvision devices), and you're trying to view the recorded or live video feed in Google Chrome. In that case, I will give some solutions below.
Hikvision's IP camera web management and LiveView software are no longer officially supported on Internet Explorer starting January 31, 2019.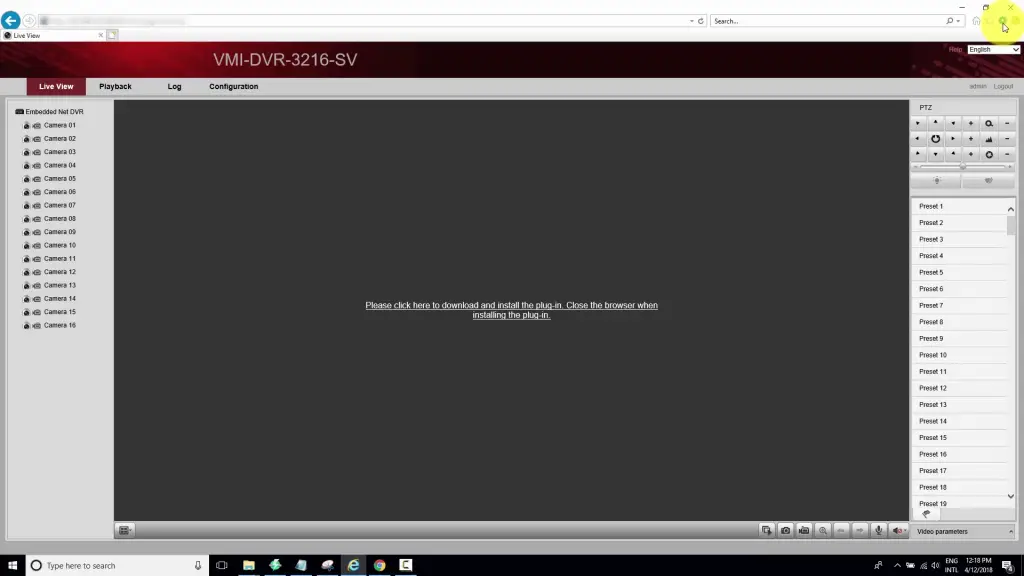 Problem 1: Google Chrome Plugin Compatibility Problems
IP Cameras and Network Video Recorders are designed to work out of the box. Yet, you may experience system-related connection issues.
This guide will help you troubleshoot common connectivity issues and seamlessly integrate your IP Cameras and Network Video Recorder with Google Chrome.
For some reason, maybe because you are using an older computer or Chrome is not supported, or you have a different version of Chrome installed, upgrade your system with the latest security patch / use a different browser, reset Google chrome, and so on.
The text with the error message when the Hikvision chrome plugin is not working is:
Would you please click here to download and install the Hikvision web plugin? Close the browser when installing the Hikvision web plugin.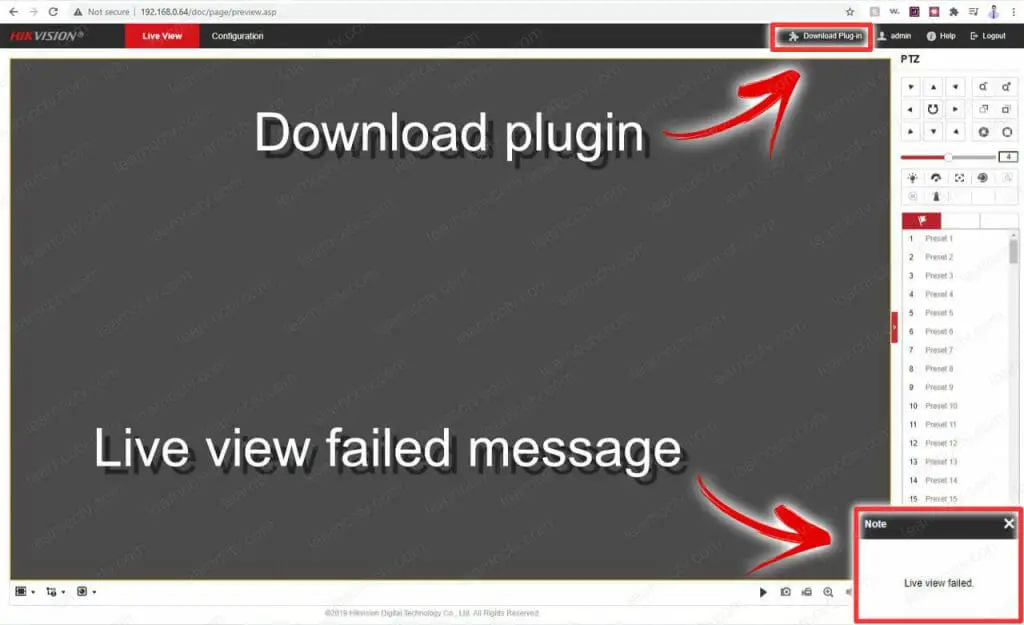 How To Fix This?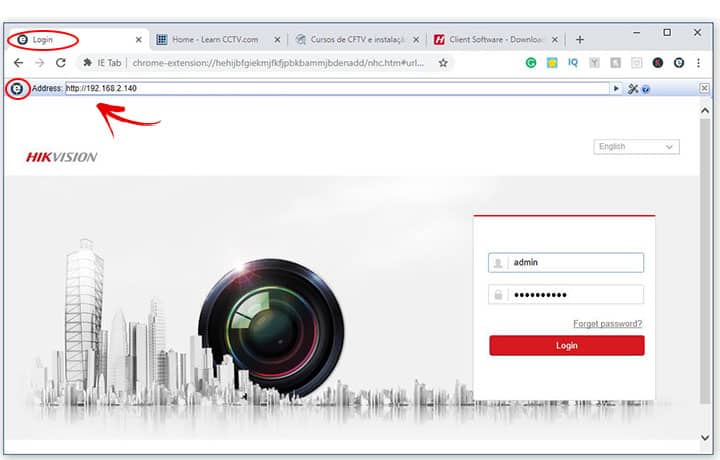 You will see an error message if you still use an unsupported browser. To view the dashboard on Chrome, you must first download and install the IE Tab extension. Please note that this only allows access to Java apps, Silverlight, and ActiveX controls.
Install and activate the 'IE Tab' extension to emulate the local IIS environment on Google Chrome. This will allow you to install the Hikvision plugin without launching the IE browser.
Problem 2: No Video Display In Google Chrome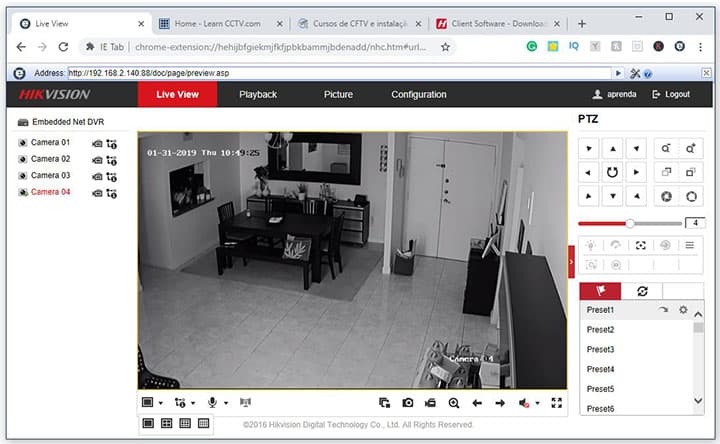 Hikvision has acknowledged Google's plans to discontinue NPAPI support but is committed to providing service to the Chrome browser that complies with upcoming Chrome changes. (1)
They regret to inform they have discontinued support to use NPAPI in Chrome. Please install an alternate browser to continue using H.264 cameras on a browser. Due to a security issue with plugin support in older browsers, a decision to suspend NPAPI support in Chrome (and other browsers) follows. 
How To Fix This?
After visiting the link to IE Tab, go to the top right and select ADD TO CHROME option. The installation will prompt you to complete the extension setup. 
IE Tab is an extension for Google Chrome that allows you to open multiple IE browser windows straight from your browser. As many people probably know, IE can be a little clunky and difficult to use compared to other browsers. Many people also don't like using Internet Explorer because of its security problems over the years.
What Does NPAPI Do?
Netscape Plugin Application Programming Interface (NPAPI) was a deprecated feature in older browsers. It provided Native Code support for Netscape Navigator 2.0 browsers, starting in 1995. Subsequently, it found its way into other browsers, such as Firefox.
Firefox engineers discontinued NPAPI support because the architecture now looks different and caused massive crashes, hangs, and security incidents. Hikvision, a Chinese security camera manufacturer, announced that it would be removing access to its devices via Google Chrome, a move that came about just months after IronNet Cybersecurity informed the FBI of a vulnerability that affected many services, including Hikvision.
Problem 4: IE Extension
Hikvision's IP camera web management and LiveView software are no longer officially supported on Internet Explorer starting January 31, 2019. The IE Tab Chrome extension can run on the Hikvision support pages in legacy, Chinese, or English with any browser other than Internet Explorer.
How To Fix This?
Support for the old Netscape Plugin API (NPAPI) support was obsolete in Chrome 51. Modern websites need secure connections, but most legacy web applications require NPAPI. This extension re-enables NPAPI support, allowing NPAPI plugins to run inside Chrome.
As technologies change and new web protocols are set up, sometimes, some older Internet applications may stop working. The screen tools feature of your Security Center software suite solves this problem.
Pale Moon is a free and open-source web browser based on the Mozilla codebase, which retains support for legacy plugins such as the one that Hikvision asks you to install. The Pale Moon browser is better than Firefox/Mozilla for running the Hikvision plugin. You can access your IP network Hikvision cameras and view live video using them.
Input the IP address of the IP camera or Hikvision NVR
Input the username and password of the Hikvision camera NVR and log in 
Take advantage of the live view!
Remote NVR Display Success
The Hikvision camera DVR app allows you to view live video from your network-connected Hikvision camera DVR  or any Hikvision device. We've tested the app against various Hikvision devices with no known issues. Simply connect to the IP address of your D-Link NVR (set via the DHCP function of your modem/router) to view live video from your network. (2)


References:
(1) NPAPI support – https://chrome.google.com/webstore/detail/chrome-npapi-replacement/okoafaojkokbmieeefnflkiklhanpeoc?hl=en
(2) DHCP function – https://docs.microsoft.com/en-us/windows-server/networking/technologies/dhcp/dhcp-top
Were Sorry This Was Not Helpful!
Let Us Improve This Article!
Please Tell Us How We Can Improve This Article.