Many people have at least one old smartphone gathering dust somewhere. But did you know that you can use your outdated Android phone as a security camera, baby monitor, or a Google Home speaker? It might surprise you, but converting an old phone into a home security camera is one of the most valuable ways to upcycle it.
Reusing your old phone instead of buying a new home security camera will save you a lot of money, and it's easy to set up and doesn't even require the phone to be connected to the Internet to work. In this article, I'll walk you through the step-by-step process to turn an old android phone into a security camera without internet.
Getting Started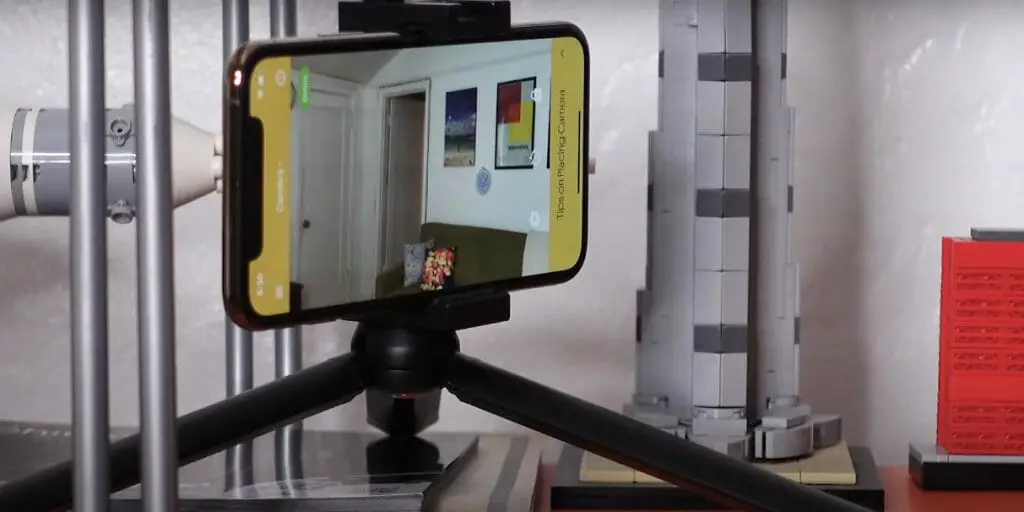 Using your phone with CCTV software, you can convert your old Android phone into a security camera without using the internet. Many of these software suites are free apps that you can get from the Google Play Store. You can connect your CCTV to a phone and use it as an android phone security camera without having to utilize the internet once you've downloaded the app.
Step #1: Download Security Camera Apps
Choosing a security camera app for your phone is the first step. Many of the same functions are available in most apps, including local and cloud streaming, recording and keeping footage locally or remotely, and motion detection and notifications. You'll be able to monitor your living space and control your android security camera from anywhere using your new smartphone once you set it up.
Alfred is one of the most well-rated apps for turning your phone into an android phone security camera. It's cross-platform, so it doesn't matter if you previously used an Android or an iPhone.
Alfred is a free app that provides a remote view of your live stream, motion detection with warnings, free cloud storage, a two-way audio broadcast, and back and front cameras. You can upgrade to Alfred Premium to get more features like higher-resolution viewing and recording, zoom capabilities, ad removal, and 30-day cloud storage.
You can install Alfred on both old and new phones, as well as any tablets you want to use.
Swipe through the introduction and select Start—Tap Next after selecting Viewer.
When you reach the sign-in page, click Sign in with Google (you'll need a Google account) and sign in with your Google login.
Repeat the steps on the previous phone, but instead of selecting Viewer, choose Camera. Also, be sure to use the same Google account.
You're almost finished with the setup after signing both phones into Alfred. Alfred has narrowed the camera options to only include some settings to make things easier. You can turn on motion detection, switch between front and back cameras, and turn on or off audio. You can also choose a resolution, enable a passcode lock, allow continuous focus, and have Alfred instantly reopen whenever the phone reboots.
You may also turn the notifications on or off, name a camera or viewer, and add people to your Trust Circle (giving them access to your video feeds). You can also remove a camera, verify how many times a camera has disconnected, establish motion detection sensitivity, and allow a low-light filter.
However, although Alfred is an excellent option, it is not the only one. Salient Eye and Presence are also excellent free options with a reasonable subscription plan if you require further functionality. And one of the most popular Android-only solutions is IP Webcam.
Step #2: Choose The Best Angle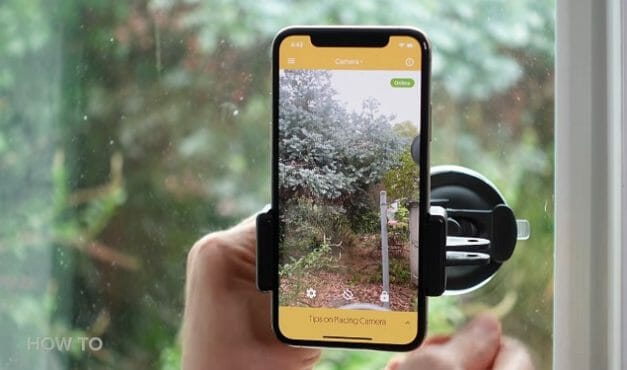 You'll need to arrange and place the camera after the stream is up and running. You might want to focus it on the main entrance to your home, your backyard, the location where you keep valuables, or any area where you believe you are most exposed.
You can set up many cameras for fairly extensive video coverage if multiple old phones are sitting around.
Step #3: Install and Activate Your New Android Security Camera
A little smartphone tripod or suction-cup car mount can perform wonders when it comes to mounting or positioning the camera in a discreet location. Consider purchasing a wide-angle lens for your phone, which you can buy online for between $5 and $20.
Streaming recordings consumes a lot of power, and the phone will be on all the time. You'll need to keep the phone close to a power source for the first several hours to keep it from dying. A ten-foot Micro-USB or Lightning cable will give you more options for placement.
Other Security Camera Apps You Can Use 
AtHome Camera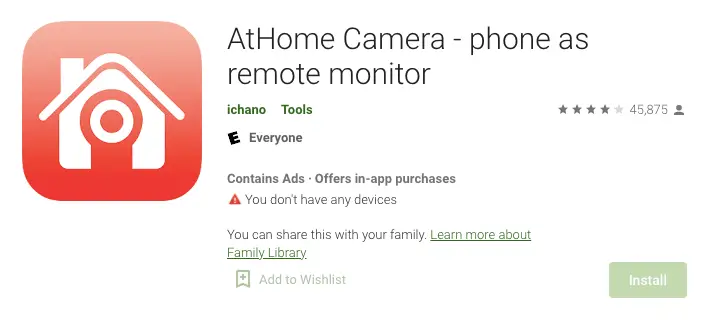 AtHome Camera is one of the most well-known and highly-rated DIY home security apps. Its flexibility for many platforms is its most important feature. It's an Android, iOS, Mac, and Windows-compatible app. The service is available in two different apps. The camera app transforms your smartphone into a camera, while the monitor app allows you to keep an eye on what's going on around you. The capabilities are time-lapse recording and multi-view for up to four cameras. You will like the benefit of remote monitoring with a facial recognition feature. (1)
This is an excellent way to put an old smartphone to good use. Lastly, the app is available for free.
Alfred Home Security Camera

Alfred Home Security Camera is also one of the most widely used mobile home security apps. It allows you to put old cell phones to good use for home security. Remote access, live video streaming, free cloud storage, a walkie-talkie capability, zoom, and more are all included. 
The majority of the functionality is available for free. However, some features, such as HD recording, are only available as part of a monthly subscription. It's a problem, but the benefits outweigh the drawbacks for most people. Aside from that, the app is free to download and use.
IP Webcam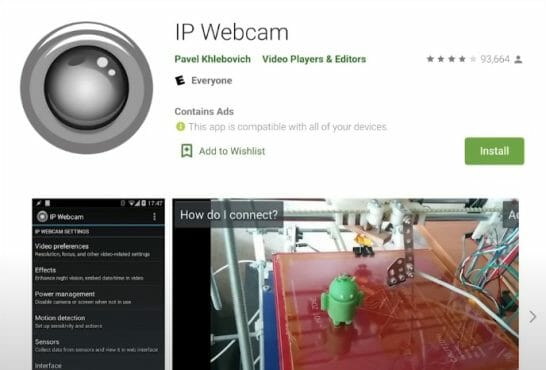 One of the more basic home security apps is IP Webcam. It transforms your smartphone into a security camera. The software comes with a good, basic set of functionalities. VLC player support, live video streaming, FTP servers, Dropbox support, motion detection, and video chat support are among them. (2)
It is one of several good free home security apps available. It does, however, take a few minutes and a little brainpower to get everything lined up properly. Apart from that, it's absolutely free.
Warden Camp
WardenCam is another older phone home security app. It promises to work on 3G, 4G, and Wi-Fi networks. Multi-camera configurations, Google Drive and Dropbox support, motion detection and alerts, two-way audio support, and above-average developer assistance round out the app's features.
Instead of a monthly subscription, this one has a one-time fee, which is always the best option. Because of the app's good UI, it's pretty straightforward to use.
Track View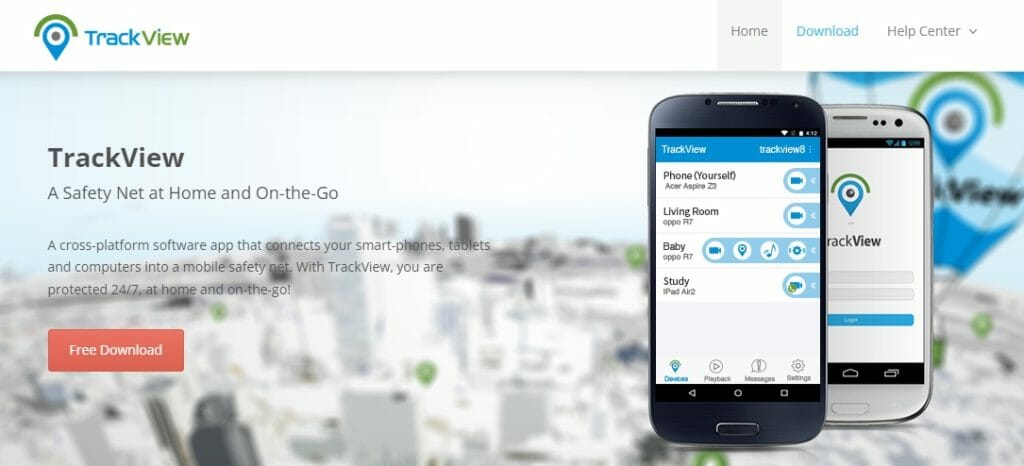 TrackView is a great all-in-one solution. A two-way radio, a family locator, a GPS phone finder, and a home security camera are all included in the app. Motion detection, night vision mode, remote audio, and video, and cloud storage for backup recordings are among the safety camera's capabilities.
This one also has a few categories of plans that unlock different features. It can grow pricey, but the less expensive ones should suffice for most people.
Which Smartphone CCTV App is The Best?
As previously said, Android phones are suitable for a wide range of mobile to CCTV apps. The apps in this evaluation are wireless, simple to use, and generally dependable. However, the majority of them rely on the internet to function correctly.
IP Webcam is proven to be the most dependable smartphone for CCTV apps tested. It's simple to use and works with Android phones. It enables you to record footage with your device using capabilities such as two-way audio.
IP Webcam is a mobile-to-CCTV program that uses your Android phone's built-in access point. This implies you can monitor a particular location without using the internet. It also offers a feature that allows you to save the captured data to your Android phone's preferred storage. You will be able to see everything that happened, whether or not you were present.
Why Choose an IP Webcam?
The app has been available on Google Play for a long time and is completely free to download and use. It is a universal app that can be used on practically any electronic device, including smartphones, laptops, tablets, and iPads.
IP Webcam has received over 10,000,000 downloads in the Google Play store and a 4.3 rating from 97,907 people, indicating that it is a popular app. The majority of these users praise its versatility and ease of use.
The app's inventor has produced a PRO version of the cellphone to CCTV program, which allows for better photos and exceptional recording. The PRO edition IP Webcam also removes the watermark from recorded video recordings and will enable you to use the motion detector feature to its full potential. You can access cloud storage through the app, but you don't have to pay for it unless you want to.
You may check the video below;





References
(1) facial recognition – https://us.norton.com/internetsecurity-iot-how-facial-recognition-software-works.html
(2) FTP servers – https://www.makeuseof.com/what-is-ftp-server/
Were Sorry This Was Not Helpful!
Let Us Improve This Article!
Please Tell Us How We Can Improve This Article.