If you are an avid Alexa user, you probably use it for your alarms. It is a great solution for setting daily alarms, but it is also important to know how to turn them off. You don't want it to keep on blaring until you figure out how to turn it off, especially if the alarm you are getting is unwanted for any reason. We are going to share five methods to turn off the Alexa alarm, so keep reading.
1. Just Say "Alexa"
Believe it or not, the easiest way to stop an alarm on your Amazon echo set by the Alexa app is to simply call out to it. When you say "Alexa", your Alexa device or app automatically recognizes that you want to talk to it, and it turns off the alarm and activates the microphone to listen to your command.
2. Say "Stop" to Alexa
Thanks to voice recognition, Alexa finds it easy to hear when you are talking, and the microphones listen to you when the alarm is blaring. Instead of going through an app or reaching the device, you can simply say "stop" and the alarm should turn off. To make this work properly, we highly recommend that you get your voice model trained properly without background noise for easy and clear recognition.
3. Use the "Disable the Alarm" Command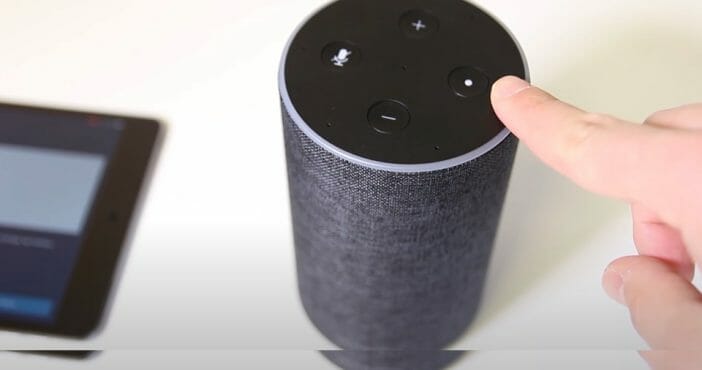 On the off chance that you do not intend to use an alarm anymore, you can remove it permanently to ask Alexa to disable the alarm through Alexa commands. With a routine change coming in, this simple command will knock that alarm off your device, and you will no longer need to hear it again. Of course, you never know when you are in a grumpy mood and might decide to use this method to disable a routine alarm as well.
4. Press the Action Button
Sometimes an alarm goes off right when you are next to your Amazon Echo device and in such a scenario, the easiest thing to do is to press the action button on your Alexa device. Amazon echo's action button is programmed to perform multiple actions and turning off an alarm is one of them.
5. Disable Using Alexa App
For many people, a super fancy or advanced solution is often not the right one and they just want to get the job done without any fuss. If you see yourself as such a person, then one option for you to do is to turn off the alarm using your Alexa app. (1)
The alarm Alexa has set up on its device is also accessible on your smartphone and it shows up on your screen when it is ringing, so a quick input on your screen will disable it. (2)
Do you know how to turn off the Alexa alarm another way? Feel free to share with us. But, before you go you may want to check other learning guides we've written below;





References
(1) app – https://www.indeed.com/career-advice/career-development/what-is-an-app
(2) smartphone – https://www.britannica.com/technology/smartphone
Were Sorry This Was Not Helpful!
Let Us Improve This Article!
Please Tell Us How We Can Improve This Article.