Have you ever wanted to turn your TV into a video monitor with a Ring Video Doorbell? Or did you want to be able to quickly switch over and see who is at the door? In our guide well cover every method and how to connect your tv to your WiFi and see who's at the door from anywhere in the world.
In general to view your ring doorbell on a tv you will either need a smart TV or a Fire TV Stick to connect your device as it needs an internet connection to work.
The Smart Ring Doorbell enables you to gain access to footage and alerts from people visiting your home in your absence. You can keep track and look over the camera feed of your Ring Doorbell through your mobile phone app or TV. The most common medium for most users is to check through their mobile phone app, while others prefer to use a Smart TV.
In this article, you will be provided with information on setting up your Ring Camera Alarm on a TV. The most important thing is to keep in mind that not all TV systems have the feature to support the connection with Ring Doorbell devices. So you have to make sure before purchasing that both the devices should be compatible. 

How Can You Tell Which Ring Doorbell You Have?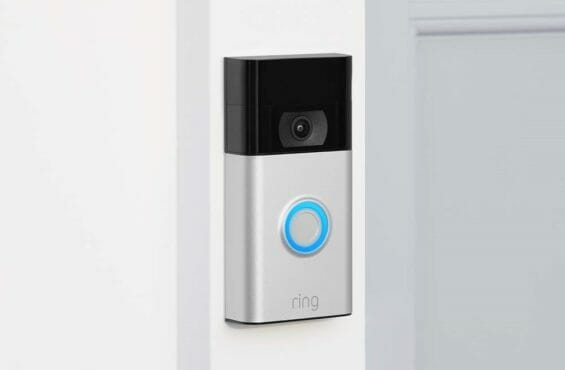 The structure of all the models of Ring Doorbells is different, and you can identify them when you check behind the Ring Doorbell. The original model has a different placement of the sensor to work with the removable battery. In contrast, its "Pro" model builds a direct connection with the home's chime box, whereas the "Elite" model requires an Ethernet connection. 
Compatability with the Device
With the knowledge of the functional requirements of the different models of the Ring Doorbell, you can also check for its compatibility with other devices. You will either require a smart TV or a Fire TV Stick to connect your device as it needs an internet connection to work. (1)
Samsung Smart TVs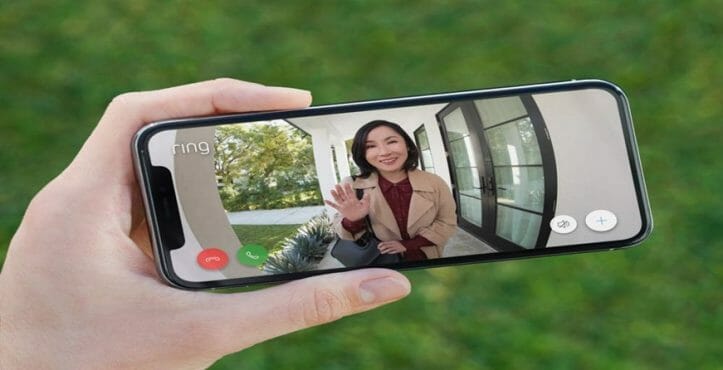 If you own a Samsung Smart TV, it is no issue to set up the Ring Doorbell and connect it with your smart TV. It will be just taking a few minutes to install the device at your home. You can manage and control device activity through an application known as "SmartThings" offered by Samsung, which will help keep a view of the camera feed of your front door.
An important thing to keep in mind is that the Samsung Smart TV is compatible with the "Pro" model of the Ring Doorbell and not with any other.
Amazon Fire TV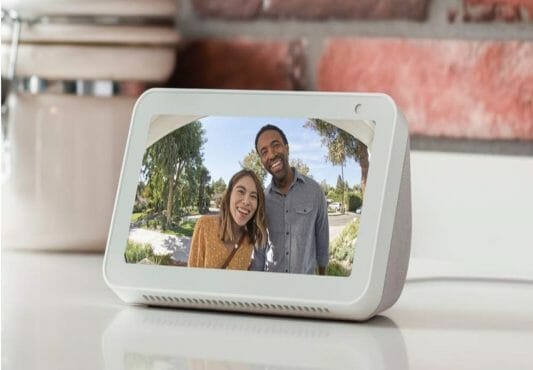 If you have got an Amazon Fire TV with a built-in Fire TV Stick, there is no requirement to buy another Fire TV Stick separately to connect your TV with the "SmartThings" application. Alexa is already installed in the Amazon Fire TV, so it is very easy and takes a few seconds to set it up.
Amazon Fire TV Stick
The Amazon Fire TV Stick also works well with any compatible TV and can provide the ability to access the Ring application through Alexa. It is quite a user friendly and can be set up by anyone.

Samsung Smart TV Connection
Unlike the Amazon Fire TV, the Samsung Smart TV does not have a built-in Alexa, so it may require some extra steps to connect it with the Ring application. Connection with the Alexa is necessary to control and manage the front door camera feed. The necessary steps are mentioned below:
Step One: Application Setup
The Ring application works well with both smartphones; android and iOS, so it is convenient to install and set up Ring applications on any compatible smartphone. Any Apple or Play Store can easily download the Ring application.
After the installation, if you do not have a registered account, create one, and if you already have an account, log in. Once you are finished with the setup process, click on the "Doorbells" section and add your device.
Step Two: SmartThings Application Setup
In order to gain access to the front door camera feed, you will need to install and set up the application "SmartThings". You can easily download this application from the Play Store; after completing the download process, it will ask you to input your Samsung account details. It is likely that you would already have a Samsung account if you have a Samsung Smart TV. (2)
After logging into the application, click "Devices", then click on "Add device", and then on the "Add Device Manually" option. Once you are done with this, click on the "Doorbells" option and go into "Ring" again. The Ring application will ask for your Ring account details to finalize the process.
Step Three: Process to Enable the Ring Doorbell
Once you are done creating or signing into both the accounts, you now need to enable "Motion Detection" and "Doorbell Activation" for the applications to start working. For the activation in the "Ring" application, press the "Doorbell" option and then enable "Motion Alerts" and "Ring Alerts" options.
For activation in the "SmartThing" application, press the "Setting" option and then enable the "Ring" and "Motion" options. Once you are done with the respective setup activation according to your compatible smart device, you will receive notifications on your TV whenever someone is nearby your front door or rings your doorbell.

Amazon Fire TV Connection Setup
As mentioned before, the Ring Doorbell can function easily with any smart TV with a built-in Fire TV Stick and includes Alexa. With the Samsung Smart TV, things are much faster as all you need is to enable "Ring Skills" on the Alexa application. The step-by-step process to enable Alexa is discussed below.
Step One: Alexa Setup
Click on "Skills and Games" once you are done downloading the Alexa app on your smartphone. Look for the Alexa Skills option and click on the "Enable to Use" option. Click on the "Authorize" option to authorize Alexa to link with the Ring Doorbell.
Step Two: Amazon Fire TV Setup
Click on "Discover Devices" to search your Amazon Fire TV. Click on it, and that is all.
Step Three: Voice Commands Setup
The Amazon Fire TV also includes automatically using Voice Commands to view the front door camera feed. You just have to give voice commands to Alexa for display. 

Connectivity of the Amazon Fire TV Stick with Other Smart TVs
The process to connect the Amazon Fire TV Stick with other smart TVs is the same as the connection between a smart TV, which has a built-in Fire TV Stick and includes Alexa.

Connecting to Other Amazon Devices
It is possible to get connectivity with other Amazon Devices other than Fire TV and Ring Doorbell. It is also possible to use the live feed feature and built-in microphone with other devices.

Can You View the Ring Doorbell at Any Time?
Yes, the Ring Doorbell provides you with the ability to observe your main door whenever you want. With the Samsung Smart TV, you will receive the notification upon any movement near your front door, and with Amazon Fire TV, you can access the live camera feed simply by commanding Alexa.

Frequently Encountered Problems
Issues Related to Video Feed Display
If you are experiencing some issues with your front door camera video feed display, you can try some actions to fix the display.
First of all, make sure your devices are connected to the same internet connection, and the connection is secured.
If you have connected your Ring Doorbell with the Samsung Smart TV, you can reboot the device and internet connection and check if the display is restored.
If you have connected your Ring Doorbell with the Amazon Fire TV and Alexa is not responding to the command, look into settings check for system updates.
Inability to Understand Voice Commands
The inability of Alexa to understand voice commands is quite common and experienced by many people. If this is the case for you, try speaking a bit slower and clearer, as Alexa sometimes finds it difficult to understand voice commands. This can also be one of the reasons why it does not show you the video feed on your TV. Also, make sure to mention the correct name of the door.
Issues Related to Poor Connection
In most cases, poor connection experiences result from the distance between the wireless router and Ring Doorbell and the smart TV. So make sure they are not more than 30 feet apart.
If that is not the case, try to reset the router; if still, it does not resolve poor connection issues, contact support teams of Amazon, Samsung, and Ring Doorbell. The support team will identify which device is not functioning properly and look for the solution to resolve the problem.

Wrapping Up
In our opinion, the Ring Doorbell is the best smart doorbell device to double up the safety and security of your home and stay notified upon the arrival of the visitors. As this is a new technology, make sure to go through each specification detail and feature of the product to eliminate the risk of experiencing any inconvenience.
Here are other learning guides for your Ring Video Doorbell, in case you needed them in the future.





References
(1) internet connection – https://www.hp.com/us-en/shop/tech-takes/how-does-the-internet-work
(2) downloading process – https://www.techtarget.com/searchnetworking/definition/downloading
Were Sorry This Was Not Helpful!
Let Us Improve This Article!
Please Tell Us How We Can Improve This Article.