One of the most common questions with ring owners is how do we get a ring doorbell recording going and do I have these features available to me? In our guide, we'll go through recording using the software as well and setting up recordings with your computer and some frequently asked questions.
Let's get started with the different ways to start recording.
(Subscription Workaround) Using Screen Capture Software to Record Your Live Feed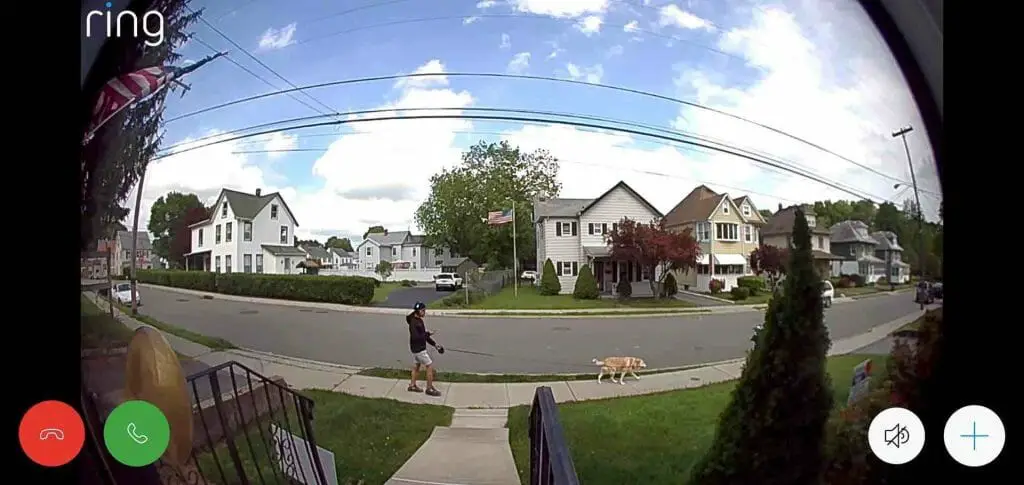 While using the Ring App on phones, you can record your screen. This means that recording clips is as simple as going to Live View and initiating a screen recording session.
To begin, go to your phone's ring app and toggle on the live watch option. After that, you can record live footage with your phone's screen capture feature. If you want to only record what you're seeing on your Ring Video Feed, this is a simple workaround.
This, however, may not be possible on all phones. When various apps are open, some may prevent you from capturing your screen. Start by toggling the live view on your screen and begin recording your screen to save the ring footage. Keep in mind that Ring's software is frequently updated to prevent free recording.
You may also want to check the list of the best video doorbell without a subscription.
Recording With A Subscription
A Ring Protect subscription is required to record video naturally without a workaround. You can't keep recordings from Ring cameras or doorbells unless you have a subscription. You can check recordings of the Ring doorbell if you subscribe to the Ring Protect subscription.
These recordings are saved directly in Ring's cloud storage and are only accessed by you. While you can't save these files to an external device or local storage immediately, you can download them afterward.
Technical or Unofficial Methods for Recording Footage Locally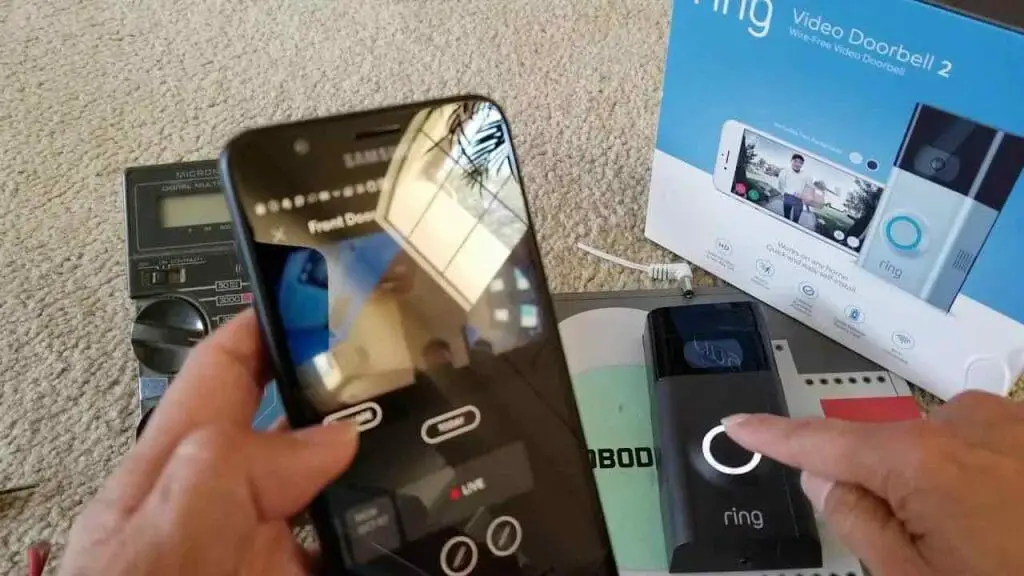 There is no official way to record Ring Doorbell video locally; however, there are various unofficial methods (which need some technical expertise) of recording footage to a local NAS or server.
This is known as a 'Man in the middle attack' in IT security terminology, and it is not always simple to carry out. Second, doing so would potentially be a violation of your Ring Terms of Service agreement. (1)
Any effort to capture your Doorbell's footage locally may result in the termination of your Ring account in a worst-case scenario. It's worth investigating your alternatives – even if it's more for fun than anything else.
There are some following methods that require some level of technical knowledge before you can use them:
Ring-Client-API
For your Ring API, this is an unofficial typescript that is not approved. This gives you access to a live stream API, which means you can use scripts to capture live stream videos. You can look over a few technically sound scripts using the API. Additionally, it has the ability to save ring videos locally. To get access to the API you do sometimes need to get approved and show proof that it is being used in a non-illicit way. (2)
Hassio Home Assistance
Hassio Home Assistance is a ring integration solution that allows you to connect security cameras and doorbells. Using the downloader, it saves the videos that the ring doorbell records. To get things started, you'll need to enable the downloader integration in the setup.
Recover Deleted Ring Videos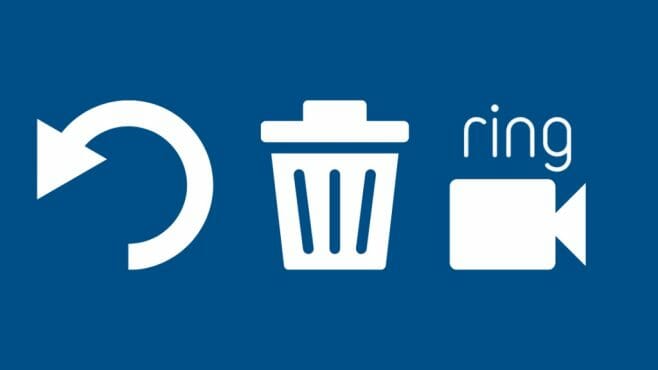 It is not possible to recover events that have been deleted. Please note that deleting all events may take up to 72 hours. There is no way to recover videos from your Ring account that has been removed.
Avoid removing videos from your Ring Account by making backups online. Videos will be automatically erased from your Ring account after 60 days, so you'll need to save them to one of your other devices, such as a phone or laptop if you wish to retain them longer.
Is it Possible to Download Ring Videos to Your Computer?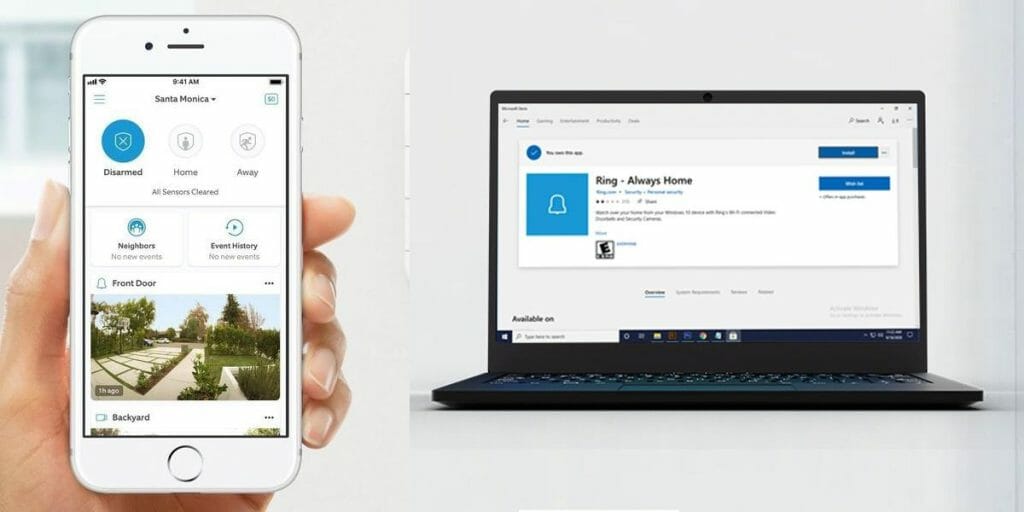 You can download your ring video to your computer by logging in to your Ring Account at ring.com/account and clicking the download icon on the lower right of the thumbnail of the video you wish to download under the "History" Tab. Alternatively, you can download up to 20 movies at once by going to "Manage Events" under the "History" tab, selecting the videos you want, and clicking "Download."
Using a Computer to Share or Download a Video
Go to ring.com/account to access your Ring account.
Use the same username and password for the Ring App as well.
Go to the History tab.
Select the video you'd like to share.
To share the video, click the arrow button in the bottom right corner.
Check also this article on how to save Ring doorbell video without a subscription.
Final Thoughts on Getting Ring Doorbell Video Without a Subscription
Almost every smartphone has a feature that allows you to capture what is on the screen, whether you have iOS, Android, or Google. The recorded file can be saved on the phone's internal storage or the inserted memory card, depending on the phone. And, depending on how the phone streams, it will save the video with or without sound.
The best approach to capturing Doorbell footage locally is to purchase doorbells that allow you to do so without a workaround. Many doorbells come with this capability, including:
Before you buy a Video Doorbell, consider if you want to save the doorbell footage locally or if you're okay with the films being saved on cloud storage, which may be destroyed after a certain length of time.
FAQ – Frequently Asked Questions
Is it Possible to Record from a Ring Doorbell Without Having a Subscription?
Without a $3/month Ring Account subscription, you won't be able to save, view, or share short recordings that the Ring Doorbell records when motion is detected.
You can record from a Ring Doorbell without a subscription if you're prepared to put in the effort by downloading scripts built by hobbyist programmers and following the associated instructions.
Ring is aware of this, and they update its software on a regular basis to prevent illegal downloads and watching of Ring Doorbell footage without a membership. Through a single update, any successful approach can make your workaround unusable. There are various video doorbells on the market that don't require a subscription, such as Nest Hello.
Is Ring Doorbell recording free?
The Ring Doorbell Recording feature is not available for free. The Ring Protect plan comes standard with all Ring devices and includes a 30-day trial that allows you to see and share video recordings and photos taken by the device.
After the trial period, you can choose between a monthly or yearly Ring Protect subscription. This allows you to keep the same benefits you had during your Doorbell device's trial time.
Are Ring doorbells always recording?
The Ring Doorbell only records when it detects motion with its camera. The Ring device, on the other hand, is on 24/7 monitoring for detecting any motion through its camera, and it only records when motion is detected, and then just for 20-60 seconds.
To use this feature, you'll need to sign up for the Ring Protect plan. Battery-operated Ring devices can only record for 20 seconds, however, hardwired devices can record for up to 60 seconds. Remember that the recording will only take place if you do not respond to the Ring Doorbell push notice issued to your home.
What happens if I don't purchase a Ring Protect Plan?
It's merely a doorbell without a membership that tells you when someone rings the doorbell and allows you to view the live doorbell video. To get the most out of this device, You'll have to purchase the Ring Protect Basic membership.
The Ring Doorbell comes with a 30-day free trial that you may use. You can take advantage of this free trial to see if you wish to commit to the Ring Protect plan in the long run.




References
(1) IT – https://www.sciencedirect.com/topics/computer-science/information-technology
(2) API – https://www.ibm.com/cloud/learn/api
Were Sorry This Was Not Helpful!
Let Us Improve This Article!
Please Tell Us How We Can Improve This Article.