Do you have concerns about moving into your new home? Or have you lost your keys? It might be a good time to look over changing or rekeying your door locks. Changing locks expands your choices for customization and upgrades. On the other hand, rekeying locks provides cost-effective security for your property. 
Both increase security with unique benefits, but what option best suits you? Should you change or rekey your locks?
Rekeying Locks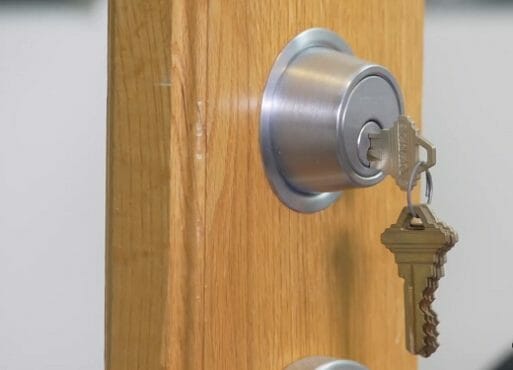 Homeowners often solve their security problems by replacing door locks. However, you might be unaware that you can rekey the locks instead. And it's a more cost-effective and viable option than replacing your locks, depending on the situation.
Rekeying locks entails changing the lock's working key to a different key while keeping your current lock. Hence, you don't have to buy a new door lock. Also, your old key will no longer work after this process. It's done by dismantling the lock and replacing the key pins. Each key pin sequence in your lock corresponds to a specific key. Replacing those pins with new ones creates a new key that operates the lock. Now it may sound complicated, but in truth, it's a simple procedure that should only take a few minutes with the proper tools.
The locksmith must have the lock's current matching key to rekey it. The only way to rekey the lock without the corresponding key is to pick it open. Although it is usually not a problem for a skilled locksmith, it does cost additional fees.
Changing Locks
Sometimes you just rather get a new lock rather than rekey an old and rusty lock that may be at the end of its shelf life. Please note that this option is not as inexpensive as you might believe.
Changing a lock is as simple as replacing the current door lock with a new one by purchasing a new lockset. The new lock can be identical to the old one or completely different, belonging to another brand and providing a higher level of security.
When deciding what type of lock to replace your old locks with, several factors must be considered, including your budget, the features they provide, and the reason for changing them in the first place.

When to Rekey Your Lock
You should rekey your locks if:
You've lost control of your existing keys, and you want to change them, so they no longer work on your locks. This can occur for various reasons, including the keys being stolen or lost, or you want to restrict access for someone with a pair of keys.
You have different locks with keys of the same brand or keyhole, and you want to operate them all with a single key, known as master keying.
Pros
Rekeying locks has several advantages, including:
When you rekey your locks, you reassert key control by rendering all other keys void. When moving into a new home, homeowners commonly use this procedure to prevent previous owners or anyone else from walking in and closing security gaps.
Rekeying is simply swapping out the key pins in the lock cylinder. Key pins are significantly less expensive than brand-new locksets, making rekeying an extremely cost-efficient option for homeowners.
Professional locksmiths can rekey locks quickly and easily using a catch tool, spanner, key decoder, and the current key. Any professional locksmith can complete this task with ease.
Cons
Rekeying your locks also has its disadvantages, which are:
Only Slight Security Upgrade Options
Rekeying your locks limits the possibility of other people with keys accessing them. There are no changes to the security features because the process uses the same locks. As a result, if you have low-quality locks on your property, rekeying them will not change the quality or appearance of the locks.

When to Change Your Lock
You should replace your locks if:
The currently in-use ones are damaged, broken, worn out, or malfunctioning. It's pointless to have the locks rekeyed if the components aren't working correctly. It is preferable to replace them with new ones that function properly.
You would want to change your lock's look to match the style of your home. For example, if you've moved into a new home with old, unsightly locks, replacing them would be a good move.
You want to upgrade to a more secure lock or digital lock. Basic locks are adequate, but with the significant risk of burglaries and intrusions, it's recommendable that you upgrade to a more sophisticated security system. (1)
Suppose you have different lock brands on your property and want them to work with the same key. It would be best to change some locks to the same brand or the same keyway type. Then, you can rekey them all to one key.
Pros
Replacing door locks has several benefits, including:
Lots of Customization Options
Installing new locks allows you to customize their appearance and feel. You can add features such as extra-long screws and additional security pins. Also, you can experiment with different materials, colors, and sizes to find the best ones for both aesthetics and security.
Replacing your lock provides you with limitless options for security enhancements. You can upgrade a Grade 2 deadbolt you currently have to a Grade 1 deadbolt. As a result, you'll have a more powerful and long-lasting lock. You can also improve your current security measures by installing smart or digital locks in your home and business.
Cons
There's also a disadvantage to changing your locks:
Lock replacement is a more costly and technically complex procedure than rekeying your locks. In addition to the cost of the new lockset, you will have to pay for the additional labor. It costs more than the total cost to rekey locks, where you only spend money on the key pins.
Great Options for Lock Upgrades
Biometric Locks – These types of locks are perfect for removing the chance your lock can be picked. They are usually set to the person's profile including their fingerprints or face to add an extra level of security. The one issue with these is technical in nature, they don't always perfect work and you could be locked out. Make sure if you do get one it's a quality one.
Rekey or Change Locks: Which is Better?
When deciding between replacing and rekeying your locks, it's best to understand the various situations wherein each is most appropriate. In some cases, replacing the locks is the logical step, whereas rekeying them may be preferable in others. Consider what you want and how it will benefit you and your property.
To help you with your decision, check the FAQs section.
FAQs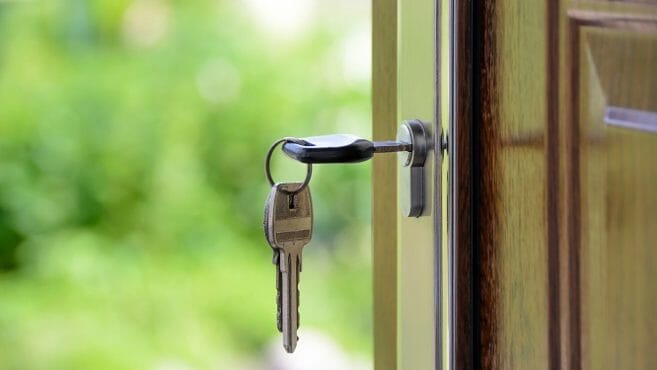 Were your keys lost?
Losing your keys jeopardizes your home's security because whoever has access to the keys has access to your home. You must ensure that the lost keys will not be a way to gain entry. So replacing your keys will be a great move. Don't be the owner that thinks losing your keys isn't a big deal when someone decides to break in. Also, the stress and thought in the back of your head of those keys being missing is not worth the stress when a quick lock replacement can set you at ease.
Are you happy and content with your current locks?
If your current locks are in good working order and you are satisfied with them, there's no need to replace them. However, if you're dissatisfied with the level of security your current locks provide, you must replace and possibly upgrade them. Most old locks are still very functional but new locks such as biometric locks can give you that extra level of security by removing the need for a key. (2)
How much is your budget?
The cost to rekey locks is much lower than replacing locks, and this may be the deciding factor in which process you choose. But take note, rekeying needs the current matching key to adjust the locks and create new keys. Without the matching key, the process becomes more time-consuming and expensive as it will incur additional charges.
Has your property recently been broken into?
If thieves have recently broken into your property, you must act quickly to prevent this from happening again. If the intruders gain entry by damaging the locks, you must replace them.


Product Recommendation
Here is our pick of deadbolt locks that are perfect for rekeying or changing locks. This door lock manufactured by Lawrence Hardware provides dependable security that can withstand a lot of use.
The Heavy-Duty Commercial Single Cylinder Hardened Deadbolt Lock is a great door lock. This deadbolt complies with ANSI A156.36 Standards for Auxiliary Locks, is UL/cUL listed, and has a 3-hour fire rating. With a hardened steel roller, a substantial 1″ bolt, and industry-leading construction, you'll have peace of mind about your property's security.
What we like
Easy to install
Fire Rated
Exceeds Grade 2 Specifications
Adjustable 2-⅜" and 2-¾" Backset
It opens easily and locks securely
Corrosion-resistant
Tough and smooth security
Reliable and certified
What we don't like
Door locks are your first line of protection against intruders and burglars, and as a home or business owner, you want the highest level of security for your property. 
Choosing between changing or rekeying your locks requires you to consider various factors. Changing your locks provides you with more design and modification options. While rekeying locks provides cost-effective security for your property.
Thus, to come to the best decision, you should weigh all of your options, think of the situation, and select the best suited to you and your property's needs.




References
(1) security system – https://www.usnews.com/360-reviews/home-security/how-does-a-home-security-system-work
(2) biometric – https://www.sciencedirect.com/topics/social-sciences/biometrics
Were Sorry This Was Not Helpful!
Let Us Improve This Article!
Please Tell Us How We Can Improve This Article.