Nowadays, smart doorbells are becoming just as common as regular doorbells, thanks to their convenience and reliability. Now we can practically have zoom calls over our doorbells and chat with people on our doorways without getting up and opening the door in many cases. While there are a lot of companies providing such products these days, Lorex is one name that most people have already heard of.
This doorbell provides high quality 2K video along with a wi-fi chime box. The Lorex Doorbell Chime combo is certainly an intriguing option for many people.
One thing that we do want to clarify right off the bat is that this bell, along with the chime kit, is not exactly the cheapest option out there. It can set you back about $200, which is a lot for many people. Now the question that remains is this: is the Lorex Doorbell Chime worth purchasing in 2022? We will be providing you with all the information you need to make an informed decision for yourself, so keep reading.
Factors to Consider Before Buying
There are various factors that could influence your decision to buy (or not buy) a specific smart doorbell. Whether it is the Lorex doorbell camera with a chime kit or something else, your decision will be dependent on the following features and conditions.
Product cost is the biggest concern for most users and home security systems target small budget customers who want limited services. If the doorbell you choose comes in at a reasonable price, it can attract your attention. Of course, that does not mean you should suffer from poor performance or lack of features.
Video quality is also a fundamental aspect of any video doorbell that you want to consider. Providing good resolution is important so you can easily tell who is at your door. It is even more important in case a security breach happens and you need to identify the culprits.
The installation process is also a consideration for many consumers since most budget doorbells come with a DIY installation process. Having a complex device will frustrate customers and we have seen our fair share of confusing doorbells.
Connectivity options also play a huge role for many people in product selection. If a doorbell can connect to the internet via cellular data and Wi-Fi, that makes it a huge plus point. (1)
Remote control features also carry a lot of weight now since most wired video doorbell options come with several unique settings like two-way communications, picture quality settings, movement detection and notifications, and more.
Lastly, durability and warranty should also be considered since you want a product that can work for a long time and does not need frequent replacements due to malfunctions. Find a company with a history of the least number of issues while also offering a decent warranty package with their doorbells.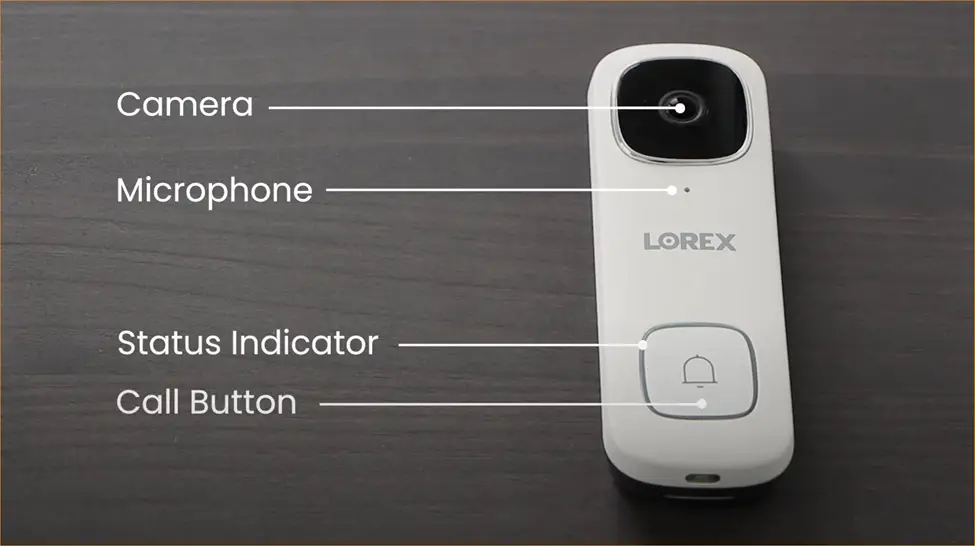 Product Specifications and Features
Since we are talking about a combination of two products by Lorex, we will be covering the specifications of each separately here. Here are the features you can expect to see in the Lorex 2K wifi video doorbell.
High-resolution 2K video provides clearer and crisp video recording and playback.
Ultra-wide field of video with 164° viewing angle and 4:3 aspect ratio for maximum coverage
HDR video quality provides image correction in low lighting conditions
32GB memory card included with support for up to 256GB memory cards
Compatible with both Alexa and Google Assistant
Can be connected to other Lorex accessories present in the house
The Chime box is an add-on device that you can get with the Lorex doorbell to enhance your user experience. The features this product offers include the following:
Built-in speaker for easy notification whenever someone is at the door.
Three volume level options to make your bell sound "just right" for your specific setting.
Two different ringtones to choose from so you can enjoy it every time it rings.
Easy to install, thanks to the built-in wall plug for constant power.
Setup and pairing with Lorex Doorbell are super easy, thanks to the Lorex Home App.
Both the doorbell and the chime kit come with end-to-end encryption, making them fully secure for use. You do not need any subscription service for these products either and can use the local storage provided in the doorbell to get all the media you want. The filing system on the device is intuitive and makes retrieving relevant data easy. (2)
Two-Way Communication
Perhaps the biggest advantage of having a video doorbell camera is that it allows you to communicate with the people outside without going to the door. The two-way communication option provided in the Lorex wifi video doorbell is among the best setups in the industry. The voice is crisp and clear, and you can easily understand everything that the person on the other end is saying.
It also works great in those lazy moments when you simply cannot be bothered to go to the door unless it is the pizza delivery guy!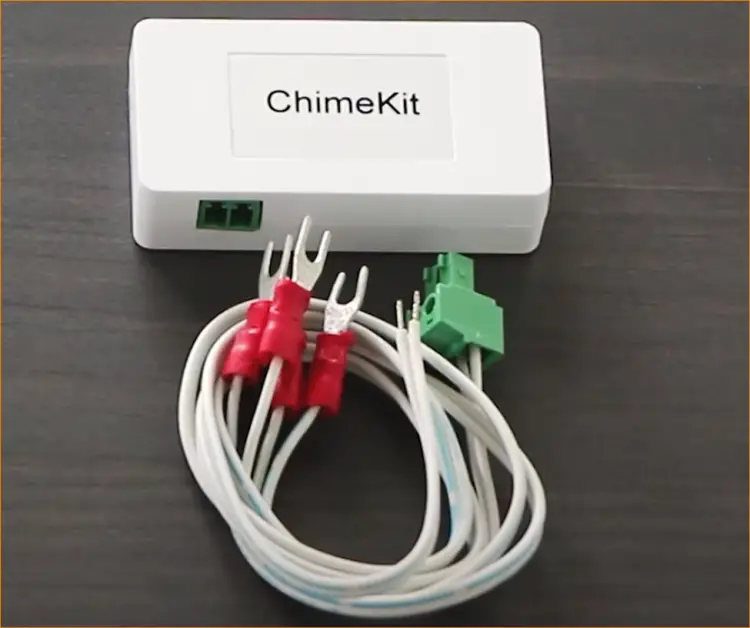 Chime Kit
If you have a big property or live in a duplex, there may be a chance that you could miss the sound of the doorbell. This could be due to a loud noise inside the house or if you were behind closed doors. However, the Chime Kit provided by Lorex as an add-on to their 2K Doorbell Camera allows you to expand the area in which you can hear your doorbell. We found ours to be especially useful when we were busy having a BBQ in our backyard.
The Chime Kit comes in a simple form factor with socket pins attached directly to the device. This allows you to plug it in pretty much anywhere and you can set it up with your doorbell using Wi-Fi. Not only can you choose from two different doorbell sounds, but you can also adjust the volume to make sure you hear it without it being annoying.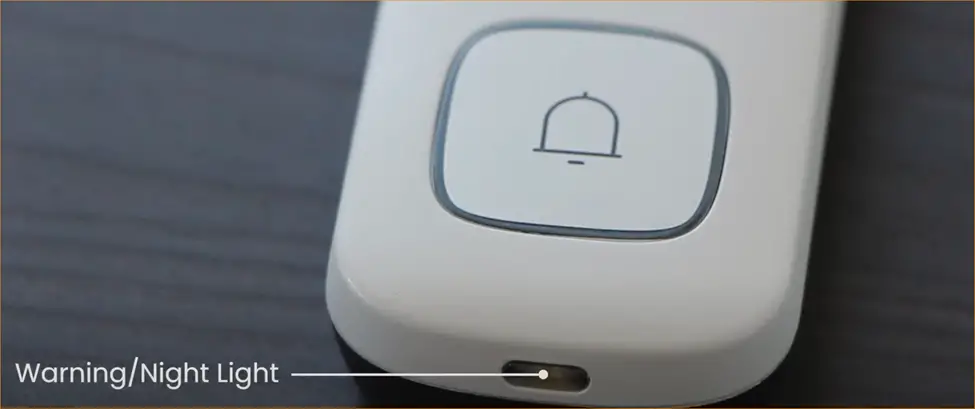 Lighting Options
Another important feature that you can find in the Lorex 2K doorbell and Lorex Chime Kit is the light. There is a downward-facing light for the doorbell that comes on either when someone approaches or when it gets dark. You can set these settings in the app or have them configured through smart home devices like Google Home and Alexa. This light might seem utterly pointless for many people unless you have a completely dark porch. The light on the Chime Kit, on the other hand, is multifunctional and can be a great lifesaver if you have a lot of noise in the house and cannot hear the doorbell. A light indication can be quite useful in such situations.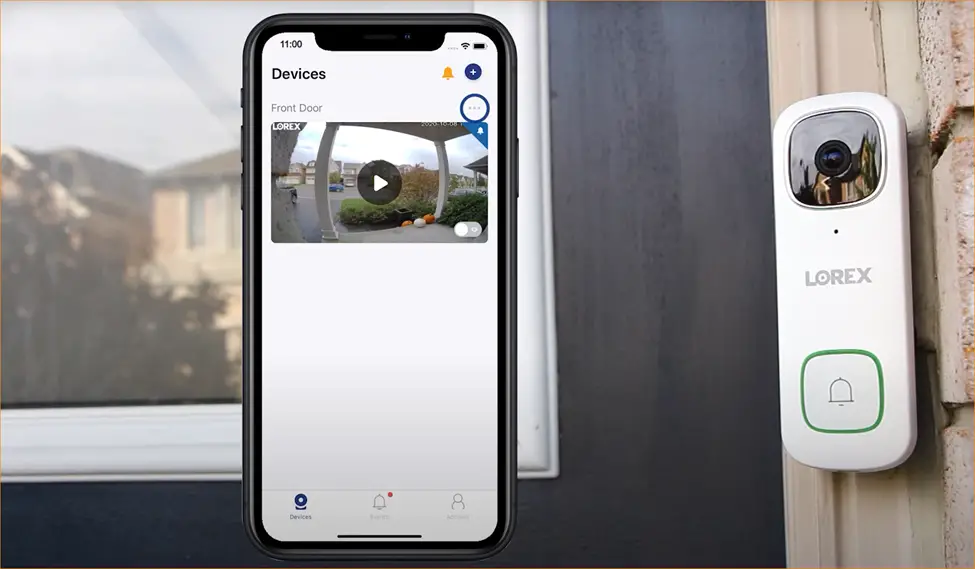 Smart Home Compatibility
Lorex only provides compatibility for Google Home and Amazon Alexa. The company does have a Lorex app for iOS but the doorbell is not compatible with the Apple HomeKit platform. This can significantly reduce the functionality of the device for many users who want to maximize its utility through Apple's platform.
If you have a Google Home setup or Amazon Echo device, you can set up a routine in Alexa for the wifi video doorbell and access it easily. This can automate various functions, including light control, video settings, and more. You can explore the Lorex app and come up with your own systems to make the most of your doorbell and chime box.
Video Recording
Lorex is known for offering products without contracts and many customers appreciate that a lot. Most people are only looking for a reliable video recording solution that saves local data without adding professional monitoring services. With this doorbell, you can do exactly that by simply inserting a microSD card into the doorbell and it would do the job for you. with support for up to 256GB of data storage, you can record plenty of videos before your card runs out. Even with that, the system automatically overrides the latest data, giving you video storage that goes back for a week, two weeks, or even more, depending on the size of the card you use.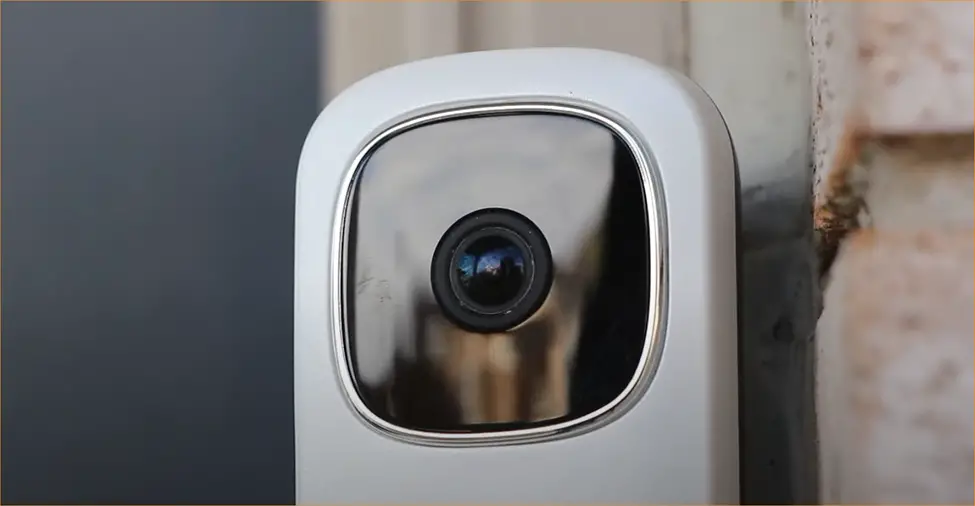 FOV and Night Vision
One of the biggest selling points for the Lorex doorbell camera with Chime Kit is its massive 162-degree field of view. Many competitors provide a maximum of 140-degree FOV, which makes the extra 20 degrees quite a luxury. It can also be a massive relief for people who need to place their doorbell in a location that requires maximum coverage and has no other vantage points.
The 2K Video Doorbell by Lorex also provides another unique feature which is the color night vision. After testing the device, we have to say that it is one of our favorite things about it, along with the chime kit.
Wrapping Up
Whether you want to buy the 2K Doorbell on its own, get the complete package with the chime kit, or only buy the chime kit as an upgrade, every option is a worthwhile investment in our opinion. With so much to offer at a price range that is highly competitive, Lorex sure seems to know what they are doing, and their products speak volumes for the quality they consistently seem to deliver.
Take a look at some of our related articles below.
---


References
(1) cellular data – https://www.verizon.com/articles/whats-the-difference-between-wifi-data-and-cellular-data/
(2) end-to-end encryption – https://www.kaspersky.com/blog/what-is-end-to-end-encryption/37011/
Were Sorry This Was Not Helpful!
Let Us Improve This Article!
Please Tell Us How We Can Improve This Article.