The Amazon Alexa helps you with various tasks by connecting it to your smart home devices through a strong and stable WiFi connection. But what if your WiFi is down and not functioning properly?
To connect Alexa to your iPhone, if you don't have a stable WiFi connection, you can still use your Alexa Echo and link it to your mobile device such as an iPhone through a:
Mobile hotspot
Bluetooth Connection (and use it as a Bluetooth speaker) 
In this guide, I'll show you how to connect the Alexa to your phone without WiFi, including the steps to establish it.
Why Does Alexa Require WiFi?
Amazon's Alexa is one of many technical devices that have been built to do specific functions exclusively over WiFi. Most of its functions require access to Natural Language Processing (NLP) for the device's artificial intelligence engine to interpret human language. The NLP is cloud-based and stored on Amazon's servers, necessitating a WiFi connection.
Alexa's interaction with smart home devices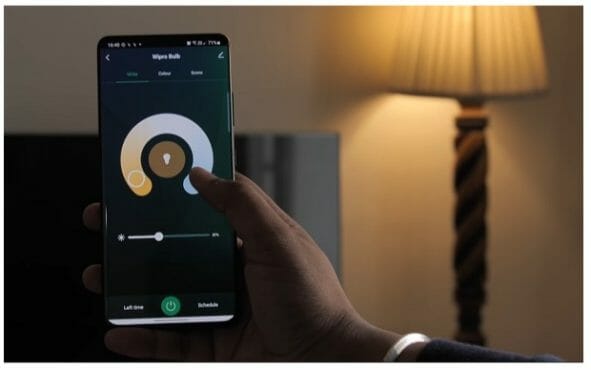 To use its voice instructions, tap on the microphone part of your Alexa-compatible device or remote control and talk directly into it.
Then, that device will reply to your command. You should log in to the Alexa app to have complete control over what Alexa does with your device. When using the Alexa app, keep your microphone off and your app open to conveniently access your smart device's controls.
When you order Alexa to perform anything or ask her a question, your smart gadgets immediately translate your instruction into text. The text is then passed through its memory to ensure a correct response. 
Ways to Link Alexa on your iPhone Without WiFi Connection
So, how do you connect Alexa to the iPhone without WiFi? As I've mentioned, you can do it in two ways, and it's through:
#1. Mobile Hotspot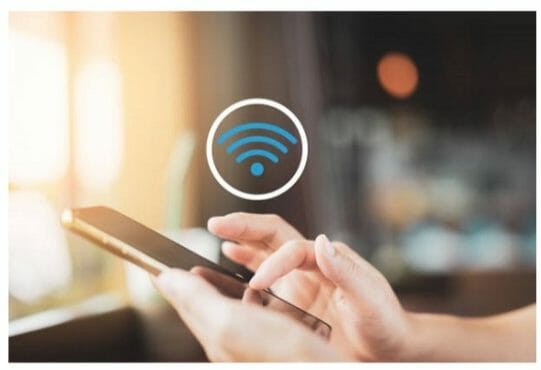 If you don't have access to WiFi, you can use a mobile hotspot to connect your Amazon Alexa Echo speaker to the internet. You can access the entire Alexa experience as if you were connected to WiFi, as long as you have a solid and reliable data connection. To do it, follow the steps below. (1)
Step 1: Start by turning on your iPhone's mobile hotspot
Step 2: Make it discoverable, then write down the password and username
Step 3: Sign in with your Amazon credentials
Step 4: Click the "Get Started" button
Step 5: Choose your Amazon account's name from the drop-down menu
Step 6: Select your network option
Then, you can use your Amazon Echo to stream whatever audio material you choose after it has been appropriately connected. Also, establishing a secure connection will enable you to use any additional features or services you desire.
#2. Bluetooth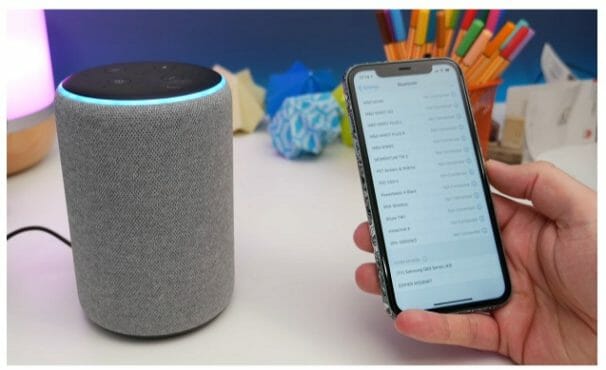 Alexa can also function as a Bluetooth speaker. To begin, you'll need a WiFi connection to complete the pairing process. After establishing an internet connection, you can easily pair your iPhone to your Amazon Alexa Echo speaker with the steps below. (2)
Step 1: Using the Alexa App, connect and set up the Alexa Echo device
Step 2: On your iPhone, go to Settings
Step 3: Turn on your Bluetooth
Step 4: Then say, "Alexa, connect to Bluetooth" or "Alexa, pair"
Step 5: Click Pair New Device on your phone and allow it to look for compatible devices
Step 6: In the list of available devices, look for your Echo device
Step 7: Tap it to link your Echo device to your phone
After pairing, you can turn off your phone's WiFi hotspot. Then, you can use your Amazon Echo as a second speaker. It enables you to stream podcasts, music, and other audio content quickly from your iPhone.
#3. Summary Table 
| | | |
| --- | --- | --- |
| Question | What You Need | Answer |
| How to connect Alexa to your phone without WiFi? | An internet connection that is reliable, consistent, and secured | Use your mobile hotspot or connect through Bluetooth   |
Alexa Functions That Aren't Available Without WiFi
To experience the best out of your new Amazon Alexa, make sure you connect it to your internet connection. Otherwise, some of its functionalities won't work, such as:
Answering your questions that necessitate cloud server access
Streaming of music
Alexa skills from other parties, such as ordering pizza
Online shopping
Distributing announcements to other gadgets
Over-the-air (OTA) phone calls and text messages
News updates
Alexa Functions That Are Available Without WiFi
Most Alexa-compatible devices, at the very least, support Bluetooth connectivity, effectively transforming them into smart speakers. Also, you can use your mobile data instead of a WiFi connection to link your phone to the Echo device and play music from numerous music providers like Spotify or iTunes. Here are the Alexa features that will work without WiFi (you might still need to use mobile data or Bluetooth):
Establishing alarms
Schedule reminders
Using Echo Connect (which allows you to make landline phone calls to other Echo devices)
The ability to control smart home devices
Making use of your Alexa gadget as a Bluetooth speaker
Using voice commands to regulate your device's volume 
FAQs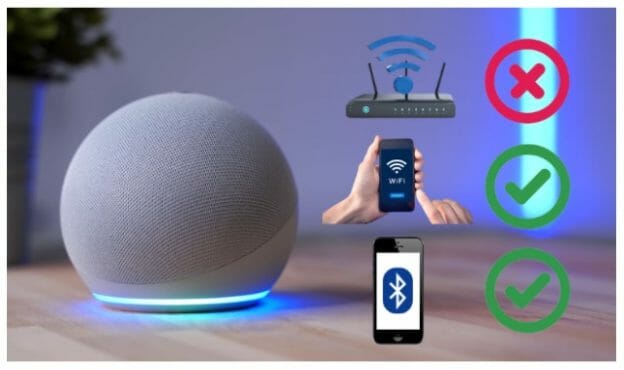 Why isn't my Amazon Alexa connecting to the internet?
If your Amazon Alexa can't connect to the WiFi, the issue could be caused by either your router or your internet service provider. It's also possible that your Amazon Alexa has a hardware issue.
Is Alexa compatible with mobile data?
Because Echo devices lack Ethernet connectors, the connection must be made via WiFi. However, Alexa works just as effectively over mobile data as it does over your home network. So, when you are out of range on your WiFi network, you can still use the Alexa app on your mobile device through mobile data.
Where is my Amazon Alexa's reset button? 
The Amazon Alexa's reset button is at the bottom of the Echo speaker. To reset the device, press and hold the button for 5 seconds. After you've done this, the light ring should glow orange and spin, signaling that it's been successfully reset.
Check the list below for some of the useful learning and product guides we've written. Until our next article!




References
(1) hotspot – https://www.intel.com/content/www/us/en/tech-tips-and-tricks/what-is-a-hotspot.html
(2) Bluetooth – https://www.businessinsider.com/what-is-bluetooth
Were Sorry This Was Not Helpful!
Let Us Improve This Article!
Please Tell Us How We Can Improve This Article.