If you live in Florida, you are no doubt already aware of the risks of flooding, but do you know enough about how this affects your flood insurance?
Flooding is a constant risk for Florida's residents. You need to be well-prepared for the eventuality to protect your family, home, and belongings. You may have prepared an emergency kit and taken other precautionary measures already, but what about financial preparation like flood insurance? 
An NFIP flood insurance policy for residents of Florida costs an average of between $562 and $785 annually. The actual cost will depend on your area, flood zone, home characteristics, whether the house is rented, how often it is occupied, etc. It can be as low as $190 or over $1,500.
This article will help you understand all you need about Florida's flood insurance.
Is Flood Insurance Mandatory in Florida?
Flood insurance is mandatory (but not legally required) in Florida, and floodplain management standards also apply if you live in any of the A and V flood zones:
A Flood Zones: A, AE, AH, AO, AR, A99
V Flood Zones: V, VE, V1-30
Flood insurance is not mandatory if you live in X flood zones. However, around a quarter of flood insurance claims are made in these zones, so it is wise to take out flood insurance no matter where your house is situated in Florida. Nevertheless, you will have to consult the Flood Insurance Rate Map (FIRM) to know which zone your area is in. It identifies certain areas as coming under the Special Flood Hazard Area (SFHA), which comprises all the A and V flood zones.
Most private mortgage companies also require flood insurance if your property comes within an SFHA. Standard home insurance policies in the United States don't cover flooding or storm surges. If you only have this standard policy, you will need to arrange for flood insurance coverage separately.
If you don't have flood insurance and your house is flooded, you will have to pay for the damages out of your pocket. Without an insurance policy, the only help you could get in the event of a flood is a grant (typically, no more than $10,000), that too, only if FEMA declares it as a federal emergency.
Flood Insurance Studies and Rate Maps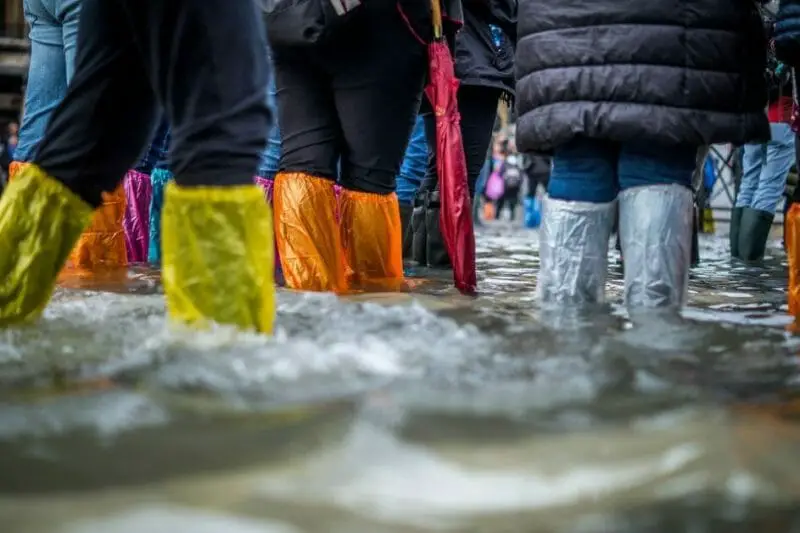 FIRMs are prepared based on Flood Insurance Studies (FISs). A FIS involves compiling various flood risk factors and other related information to assist in community planning and development. They give background information on the FIRMs and include geographic and historical profiles, flood elevation profiles, details of the engineering methods employed, and the analysis that was done to support the flood zone designations.
The FIRMs, or simply 'Flood Maps,' are devised to aid in managing floodplains, and they are the basis for building and flood insurance plans. A FIRM shows predicted flood levels relative to the 'base flood' with a 1% annual chance of occurring in any given year. Beware, however, that a FEMA flood map may not be up-to-date.
Flood Insurance in Florida
Federal or Private Insurance?
One question is whether to go for federal or private insurance. The National Flood Insurance Program (NFIP) provides federal flood insurance. It is heavily regulated, and the insurance policy usually takes one month to be active. Also, it only covers flood damages up to certain limits (see the following subsection below).
Generally, private flood insurance tends to be cheaper but provides greater coverage, and it normally takes a couple of weeks for the policy to be active. It covers more things and gives some perks you won't get with NFIP flood insurance. For example, besides the damages, it usually also covers the replacement of personal belongings and, if you are forced to evacuate, meals and a hotel stay.
Private flood insurance coverage providers in Florida have increased rates dramatically since 2017, when Hurricane Irma hit the state, causing widespread devastation on September 10. [1]
What Does Flood Insurance Cover?
A standard flood insurance policy usually covers both personal and building property coverage:
Personal property coverage – Repairs or replacement of flood-damaged belongings
Building property coverage – Repairs or rebuilding of a damaged house/garage
NFIP's limit for personal property coverage is $100,000, and for building property coverage, it is $250,000. These are the maximum amounts, regardless of the extent of the damage. Additionally, specific deductibles apply in each of the two types of coverage, i.e., for the portion, you will be responsible for paying and which will also not be covered by the insurance.
How Much is Flood Insurance in Florida?
An NFIP flood insurance policy for residents of Florida costs an average of $562 annually. This is roughly 6% higher than the national average for NFIP-issued policies. Otherwise, different estimates of the average price of a flood insurance policy in Florida range between $562 and $785 as of October 2022 across all flood insurance providers.
If you live in any of the cities listed in the table below, you'll know whether you live among the top ten cheapest or most expensive for flood insurance in Florida. This information is based on FEMA flood insurance policies. You may find lower premiums with private flood insurance providers. Remember that an NFIP flood insurance policy presently incurs an extra $25, which can rise to $250 if you don't live in that house as your primary residence.
Top 10 Cities for Flood Insurance in Florida
Cheapest Cities
from most (~$190) to least (~$420)
Most Expensive Cities
from least (~$750) to most (~$1,510)
    • Sunny Isles Beach
    • Aventura
    • Daytona Beach Shores
    • Hallandale Beach
    • Panama City Beach
    • Pompano Beach
    • Tamarac
    • Cocoa Beach
    • Miami
    • Boca Raton
    • Clearwater
    • Cape Coral
    • Tampa
    • Naples
    • Sarasota
    • Punta Gorda
    • St. Petersburg
    • St. Pete Beach
    • Sanibel
    • Key West
For example:
Among the lowest rates, the average annual cost per policy is $194 in Aventura and Sunny Isles Beach, $254 in Hallandale Beach; $318 in Panama City Beach; $390 in Miami, and $413 in Boca Raton.
Among the highest rates, the average annual cost per policy is $789 in Cape Coral, $913 in Naples, $1,015 in St. Petersburg, and $1,505 in Key West.
The cost of the flood insurance policy for your particular home will depend on your area, flood zone, property structure and elevation, whether the house is rented, how often it is occupied, etc. It can be as low as $190 and as high as over $1,500. In the larger cities, you can expect to pay roughly between $400 and $1,000.
Would You Like to Pay Less for Your Flood Insurance?
If you would like to pay less for your flood insurance, consider doing as many of the following things as you can:
Lower your flood risk by installing flood openings, elevating your property and utilities, and filling in your basement.
Provide an elevation certificate.
Choose a higher deductible to lower your premium. Consult your insurance provider to find out your deductible coverage amounts.
Encourage your community to mitigate flood risks to receive a further discount from the NFIP.
Take a look at some of our related articles below.
---


References
[1] Gloria Gonzalez. Wave of private flood insurers enters Florida market. Business Insurance. Retrieved from https://www.businessinsurance.com/article/20190503/NEWS06/912328267/Wave-of-private-flood-insurers-enters-Florida-market. May 3, 2019.
Were Sorry This Was Not Helpful!
Let Us Improve This Article!
Please Tell Us How We Can Improve This Article.